Hey, how are you people doing? Once again it's Feel-X, and I'm just talking about one of my fellow artist's house party last night. It was a cool night. It wasn't the craziest party in the world, but all in all it was a nice social gathering. Let me start off by saying, "I had to show up with some of Lethal Inspiration's first prints." I was wearing The Lethal Inspiration "Barcode" Tee along with our "The Force" skully. Here was the outfit . . .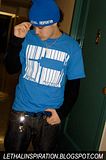 Anyway, the party was held for the celebration of Tejon's 19th birthday. For those of you who don't know Tejon, he is an up and coming vocalist signed to Tha' Works Records. Tejon and I have an album expected to release after my album, "A Musician's Tale". Here is Tejon . . .



If you recognize the second picture also includes the girl from our "coming soon . . ." commercial. This has been my girlfriend for the past three and a half years. She has also been an actively involved with the release of the line. She is currently attending school for fashion design and consults me and Squeaks about the current Streetwear market. Trust me, she looks innocent but can be harsh with her criticism . . . lol. Anyway, here are just a few pictures of me and her from the night.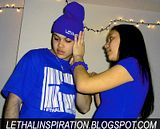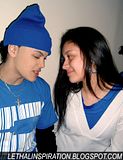 Also at the party were other Tha' Works Records members and affilates from the dance team formerly known as Team Backwudz, now known as Team Nightmare.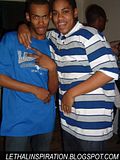 At the end of the night the funniest thing had to be how "hood" the bathroom was. The toilet didn't flush, and you had to fill up a bucket in the bathtub and pour it down the toiet in order to flush everything down. Here's a demonstration . . .



I had fun. The laughs will be something to remember. Sometimes, just experienceing good times in life can be the best inspiration.

-All is love.
-Feel-X